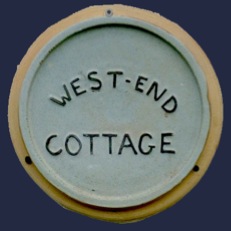 We have relocated at a new website, please
click
to be redirected, but soon there will be more to peruse here. Our other cottage, set in the Wolds, in Tennyson country at Hagworthingham, is reaching completion and will be available later this year. It should be finished before then but is let already for the months of June, July and August.
Currently it is known as Foxglove Cottage, but will very likely be re-named soon. Parts of the building date from the late 17th Century, and it was originally thatched, but now is traditionally pantiled. The cottage which is listed, has two double bedrooms, bathroom, a cosy sitting room and a well equipped kitchen diner. Taller than average visitors should be careful, as the ceilings are on the low side, and doors sometimes lower still. Oil fired Central Heating is installed throughout.
There is car parking off road, and a secluded South facing garden at the rear. In common with Louth, Hagworthingham is on the Greenwich Meridian. The market towns of Spilsby and Horncastle are each only 6 miles away. There is a pleasant pub, The George and Dragon, within walking distance, and the coast is not far away. There is a regular service by bus from Lincoln to Skegness via Horncastle and Spilsby.
Read about its progress and completion here and on the NumberNIne website Blog at
www.holidaycottageslincs.com
.
We'll keep adding more information here day by day so please bookmark the page and
come back to see us.2012/05/15

Yesterday at the house a forgotten item came to light and caught my eye; a circular ceramic name plaque bearing the words "West End Cottage". So that was it. The new-old name is that. It makes a lot of sense because it must have been a previous name, and the cottage is, on its side of the road, the second to last building at the Western extremity of the village.

Most importantly having a ready made name and plaque saves some time, effort, and a few ££££ too!

J.M-S

Sunday 10th June 2012, the annual Classic Car Show was held in LOUTH